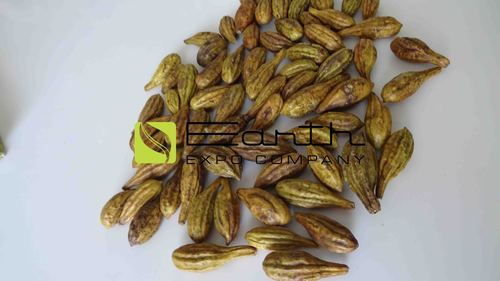 Product Description
Haritaki Seeds
Haritaki is the common name for terminalia chebula. It is an ideal and an important Ayurveda herb used in the treatment of digestive disorders. Antibacterial and antifungal properties are also some of the common benefits of this drug.
Haritaki is also known as Terminalia Chebula, Chebulic Myrobalan, Harde, Myrobalans etc.
The tree can be found in the sub Himalayan tracks.It is a vital herb used in Ayurveda preparations and other purposes. it has also been effective since years in the treatment of infections caused by E.coli and other parasites of the digestive system.
Haritaki has laxative, rejuvenative, purgative, astringent and dry properties
Earth Expo Company is one of the leading processor & Exporter of Spices & Herbs From India, we manufacture and Export best Quality Haritaki seeds and can offer you same at best competitive price.
USES OF HARITAKI SEEDS
1) Nervous System: Very good in conditions of weakness in the nerves and brain and for diminished vision.
2) Circulatory system:Useful to strengthen weaken heart or blood disorders.
3) The paste of its fruit is effective in reducing swelling, hastening the healing process and cleansing the wounds and ulcers
4) The paste gives relief to the eyelids, in case of conjunctivitis.
5) The herb is used in preparing Triphalam that is used for hair wash, brush teeth in pyorrhea and treat bleeding gums
6) Regular consumption of haritaki powder, promotes longevity and boosts energy.
7) Its powder, when mixed with honey and ghee, is an effective remedy for anemia.
8) Also useful for skin disease.
EARTH EXPO COMPANY
EARTH COMMITTED TO QUALITY
Contact Us
107/B, Nomoney Complex, Near Meghdoot Cinema, Bhavnagar, Gujarat, 364290, India
Phone :+918068094267