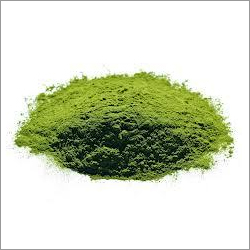 Product Description
Pure wheat green grass
Wheatgrass Powder is a nutrient-rich type of young grass powder in the wheat family, sold in a variety of forms as a dietary supplement. Wheatgrass Powder has numerous health benefits, it includes concentrated amount of nutrient like iron, calcium, magnesium, amino acid, chlorophyll and vitamin A,C & E.

It improves body immunity, stamina, Mental alertness and physical ability level of the body. It naturally prevents daily hazards in our life .

At Earth Expo Company, we manufacture and export best quality Wheat Grass Powder, which is prepared from the cotyledons of the common wheat plant. It is a good way to help meet your daily target for vegetable serving.



Specialties
Wheatgrass is a naturally rich source of Vitamins, Minerals, Amino acids, Enzymes, Chlorophyll and Dietary Fibre
100 g Wheatgrass Powder, obtained from 1 kg of fresh Wheatgrass, can supply nourishment equal to that obtained from 23 kg of selected vegetables
Wheatgrass contains over 90 minerals, including potassium, calcium, magnesium and sodium
Wheatgrass is a great source of vitamins B, C, E and carotene
It improve the body's metabolism

Awaylable in
1) Whole long leaves,
2) Powder
3) Capsules
4) Tablets
5) Juice formula
Available Packing
Small packing as per consignee need to bulk packing
Contact Us
107/B, Nomoney Complex, Near Meghdoot Cinema, Bhavnagar, Gujarat, 364290, India
Phone :+918068094267